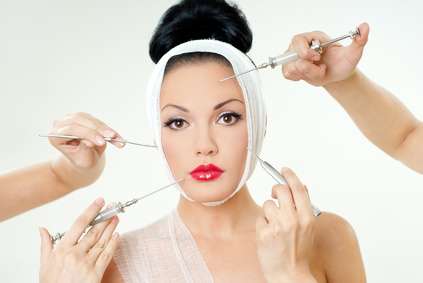 1. The sooner you start to care for your face, the faster you age
Let's consider the injectable wrinkle fillers and volume contouring.
Strong facial expressions are a bad habit, such as smoking or excessive alcohol consumption. Botox, in this case, is a necessary prophylactic procedure. The drug does not completely block the muscle, thus creating a 'fixed mask' effect, but only reduces facial muscle activity. Just two procedures a year can help to get rid of this unhelpful habit. The facial muscles will adapt to passivity so that wrinkles won't form in this area.
The introduction of fillers, for example, around the nasolabial folds, creates a solid frame for the dermis, with connective tissue forming around it, thus avoiding deepening nasolabial folds.
Correctly selected make up is only half the success. To preserve the skin's beauty and youth, proper care at home is pivotal. Only a beauty therapist can help you choose the right products, after examining your skin and determining its type.
2. Injection procedures, such as mesotherapy, biorevitalization, and wrinkle fillers, cause cancer
This allegation is fundamentally incorrect, since these procedures have been around for a very long time and have been approved by the FDA (the Food and Drug Administration is an Agency of the United States Department of Health and Human Services, one of the federal executive departments).
3. Autologous fibroblasts are stem cells that cause cancer
Fibroblasts are differentiated skin cells, unlike stem cells, which are undifferentiated immature cells. Once in the dermis, autologous fibroblasts are not able to divide, and their main goal is the synthesis of substances necessary to create a framework for the dermis.
4. Resurfacing lasers thin the skin
The idea of the laser is that the laser beam vaporizes the old, dead cells of the epidermis. Laser triggers a whole cascade of useful processes. Immediately after resurfacing, skin germ cells become more active. They begin to produce collagen fibers, elastin and hyaluronic acid with a lot more effort than previously. This leads to noticeable rejuvenation of the skin. Resurfacing reduces skin sagging, large pores and pigmentation - this procedure effectively 'erases' the noticeable passage of time.
5. To deal with unwanted fat deposits, you can simply undergo a special procedure or liposuction
Although there are numerous procedures designed to make you thin, none of them will keep you from gaining weight unless you also maintain a balanced and restricted diet. All weight loss methods are designed to fight against local fat deposits rather than being a treatment for being overweight.